Adventure Logs // Needle Peak, BC
This adventure log is split into two parts: Story time and Stats. The story comes first, and the stats are located at the very bottom of this post. Feel free to skip the story and scroll through the photos until you find the stats, if that's your thing!
As I'm a wedding photographer - I gotta put this plug in here. The area on the way up to Needle Peak would make for some STUNNING engagement/couple/adventure or elopement photos. The way that the light hits this area is super inspiring. I hike to gorgeous locations and am constantly wishing for some adventurous couples who want to elope or be photographed in jaw-dropping scenery - which is ideally their happy place as well. Get in touch with me here or on instagram and we can make a plan!
My alarm goes off at 5am. 5:12am. 5:15am. 5:25am. I don't even use the snooze button - no, sleepy me opens my phone each time and turns off the alarm. If I'm lucky I only turn off the current one, not the seven more that I've set for that hour. At 5:30am I pull myself out of bed, groggy and really freaking tired.
The only sound in my house is the patter of my feet as I head to the kitchen. The sun hasn't quite risen yet, and I try not to think about how warm my bed is. My gear is assembled in a semi-pile in my bedroom - there's a water filter, several different layers of clothing, a stock pile of food, an emergency blanket. Was there anything that I was forgetting? Switching back and forth between wearing leggings and shorts I realize that I'll be late if I take any longer. I settle on the shorts and stuff the leggings into my bag, haphazardly along with everything else that I've piled on my floor. I'll deal with it in the car later.
Arriving at the trailhead we soon realize that our summit for the day likely will be socked in by smoke. I open the car door and immediately decide to change into my leggings. It was cold, folks. The fires in BC coupled with the wind patterns have swept and sucked smoke into various valleys - we pass a couple on the trail who tell us that it was completely clear the day before, but this morning the visibility was diminished. The first few strides into the trees are nothing short of spectacular: a wide and soft trail, with morning sun streaming between the evergreens. I take a few deep breaths and look around while my friend adjusts her bag. There's a gentle slope that winds through ferns and eventually begins a steeper incline into the roots.
It's not long before the grind through the trees and soil melts into granite and open air above us. The view from here is already stunning and yet we can barely see the summit of Yak beyond us across the Coquihalla because of the smoke. What we can see though, is our objective for the day: Needle Peak. The Needle Peak trail climbs up through the trees and then eventually more or less levels out into sub-alpine ridge - right now flowers are blooming and there's purple and orange dotting the mountainside. As we continue, Flatiron (a nearby summit and an objective for another day) comes into view and is tempting.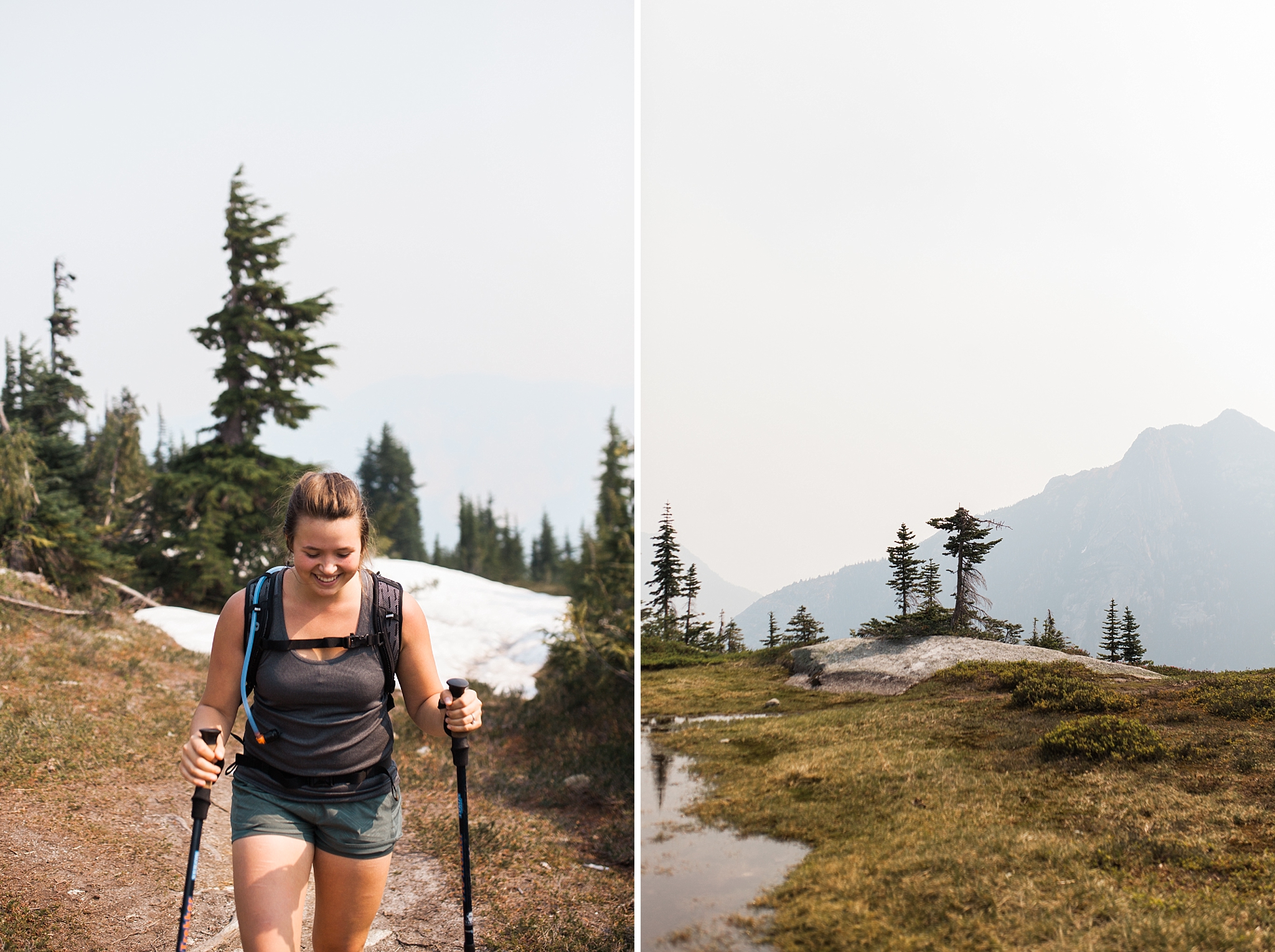 Hiking quickly turns into scrambling with granite boulders bringing us to an abrupt halt. While I'm a confident and quick hiker, I'll admit my scrambling abilities haven't been practiced as much as I'd like. Nervous laughter bubbles up between the three of us.
"I'm actually kind of scared guys", I admit through some clenched teeth, smiling but shaking a little while I cling with both hands and legs to a rock that doesn't feel all that sturdy. My bag is pushing against the granite mass to the right of me, making me feel off balance and stuck. We all giggle in the way that you do when submitting yourself to something a bit outside your comfort zone. It's a lot of fun. Three hikers had slid effortlessly down the section that I was now clinging to.
"It's easier coming down - this is the most difficult section", they reassured us as they past by us "don't worry". We must have looked afraid. Haha!
I passed my bag up to my friend who had already scrambled up, and with the weight off my back I was suddenly a lot more confident. It wasn't long until our whole group was up and over, smiling at each other and looking for a spot to eat lunch.
At this point we're the only ones on the mountain, hundreds of meters above the highway and there's the complete silence surrounding us that is really only achieved when you get yourself out into nature far from anything else. Those moments of solitude are seriously some of my favourites. My thoughts are quiet and it's easier to focus on each of my senses - the sun on my face, the lack of sound, the smell of the earth around me. It's so simple.
Lunch takes some time - the sun is warm and there isn't any wind. A tiny ant picks up a little morsel of a noodle that escaped me (I forgot a spoon) and I watch it climb up over my backpack with it on it's back. I'm grateful for the lack of mosquitos, though we had noticed them at a lower elevation. My friend lays down with her head on her backpack and falls asleep. I do the same, soaking up the sun on my face.
Once I got past the fear factor - the don't look down, I'm really exposed on some rocks, thing - the scrambling that had instilled a bit of fear turned into our playground for the afternoon. We ditched our bags after lunch, and headed towards the summit. Holy smokes guys, this was a fun one. Scrambling and stopping for photos along the way, we took our time heading further up towards the summit.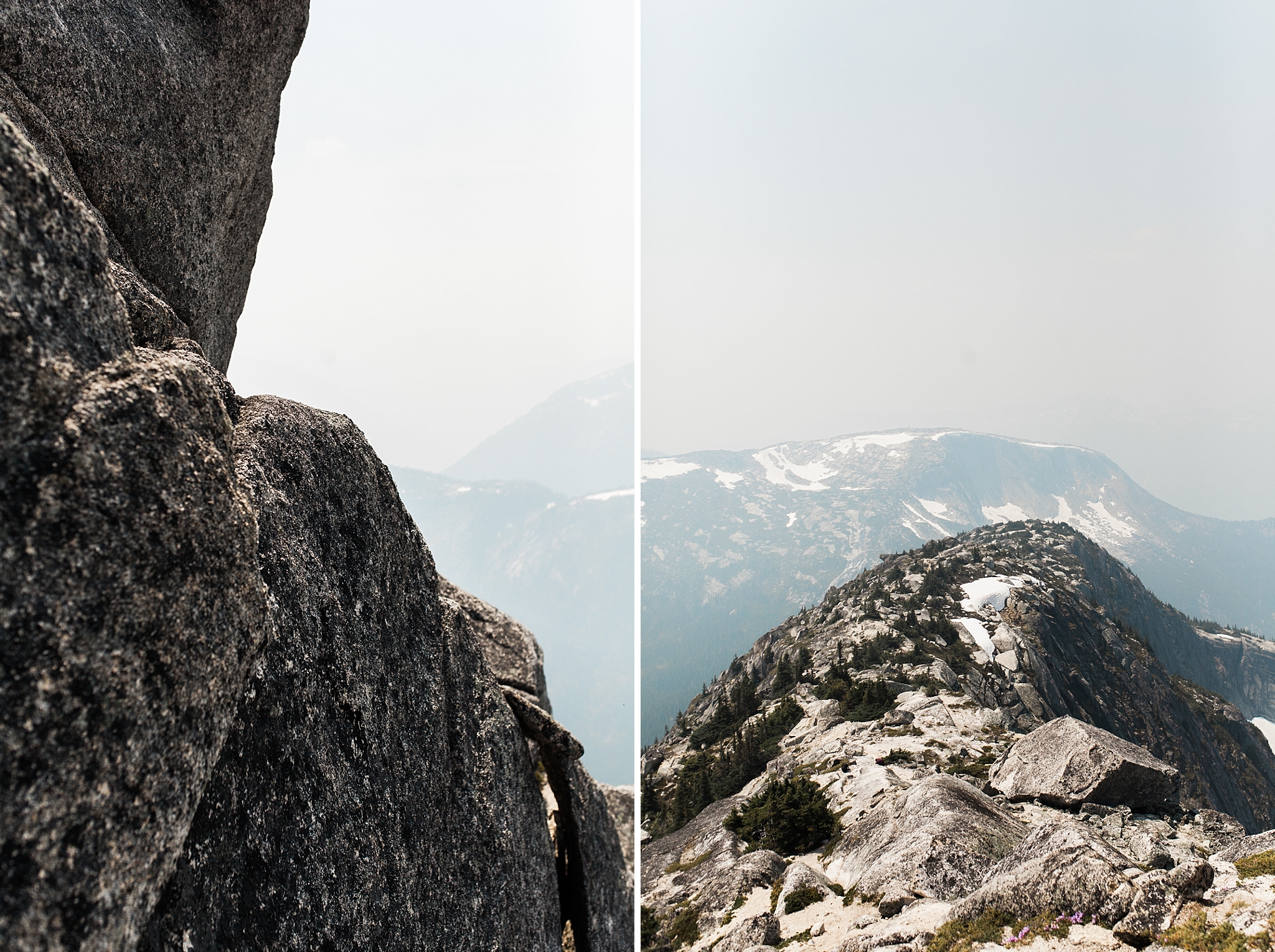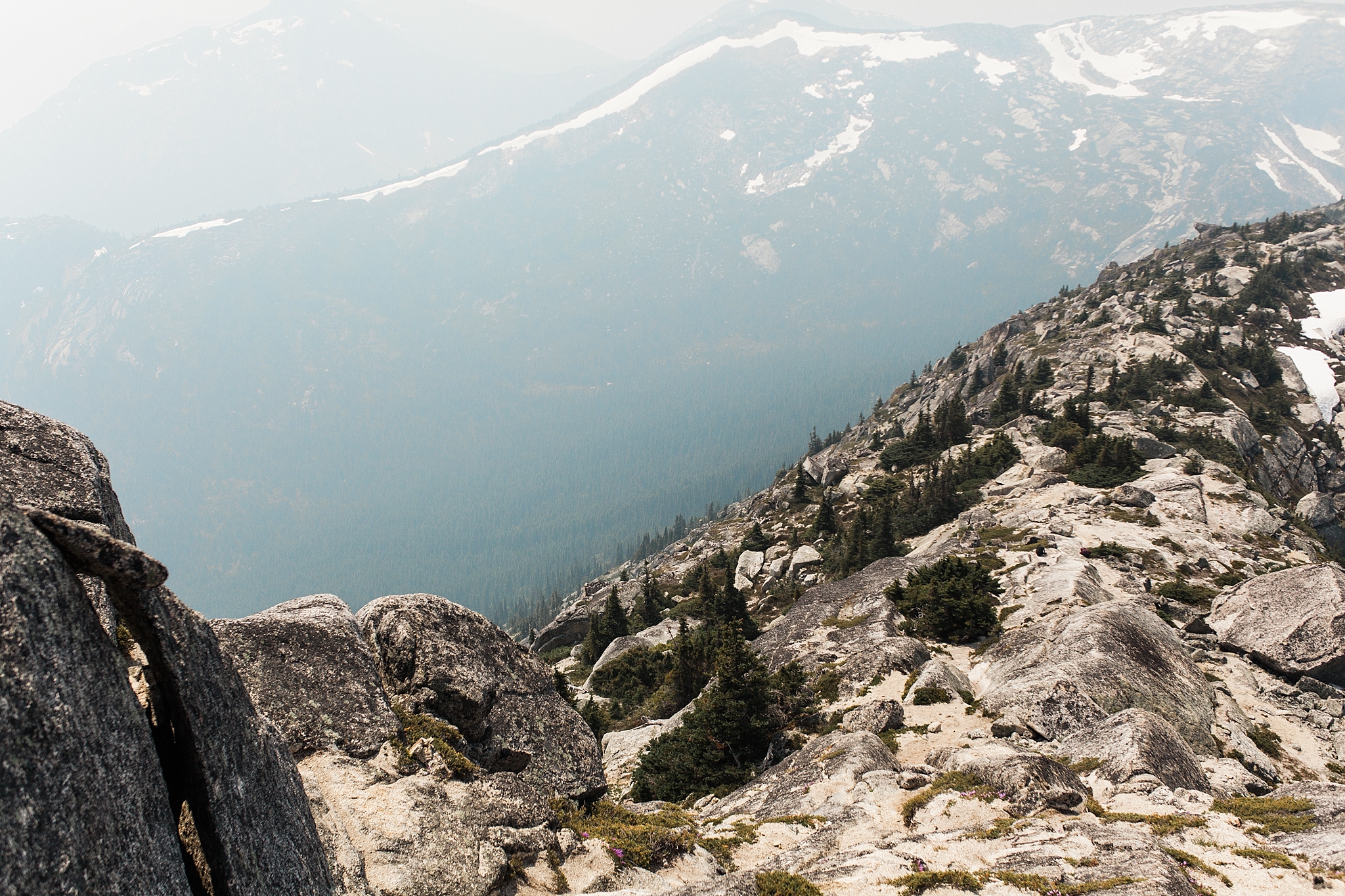 Eventually we pop up and have 360 degree views that were spectacular even on our smokey day. Luckily we had no wind and so enjoyed nearly another hour hanging out on the summit - still not a soul in sight. My partners for this trip was one of my brides from the spring time, Emma (featured in most of these photos), and her sis in law. It's been so fun turning a client into a friend, especially when they are passionate about the outdoors like I am! The smokey haze creates a surreal atmosphere and I muse about watching a sunset up here one day. I felt like a mountain goat would pop up over the ridge at any moment.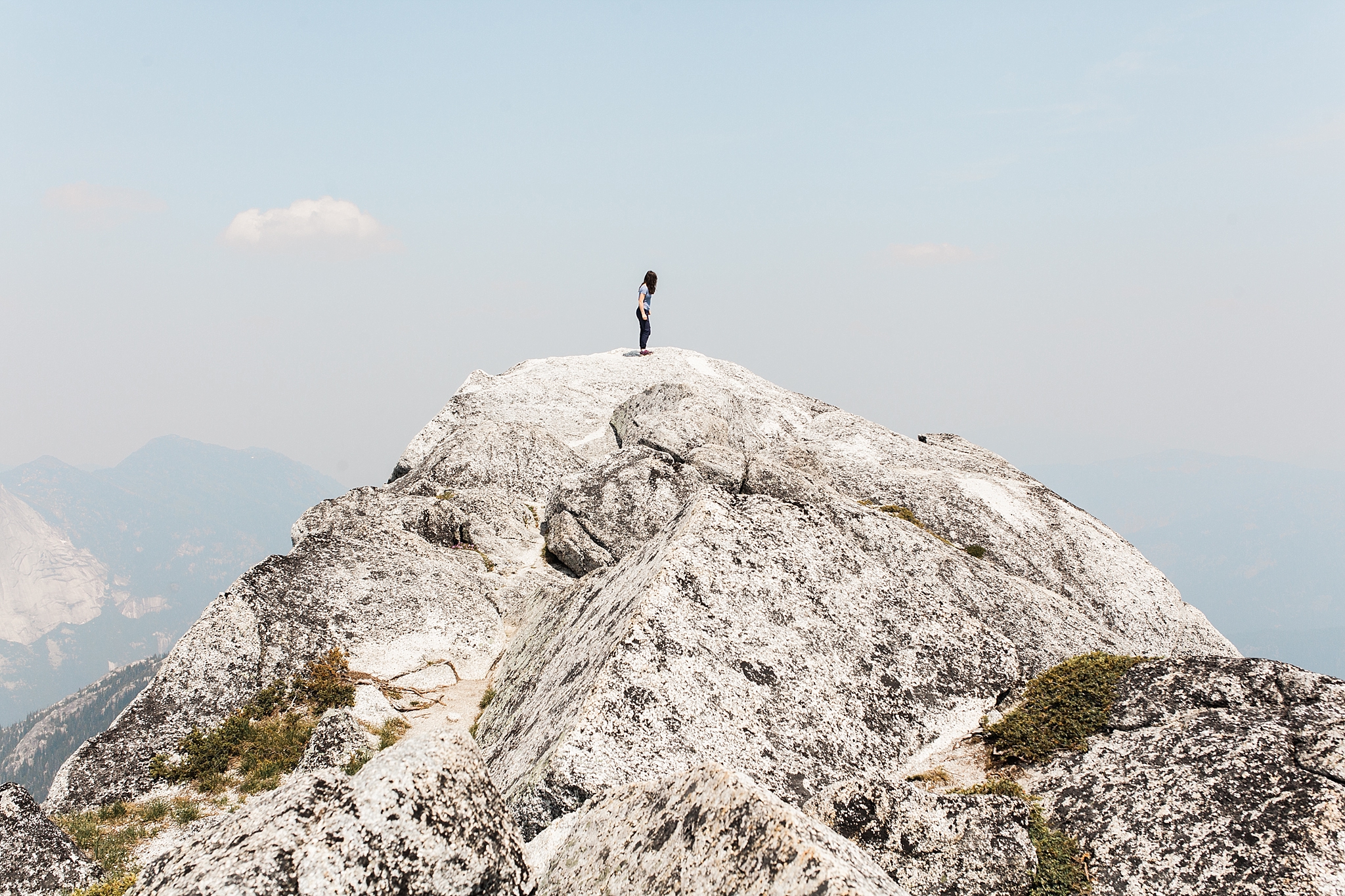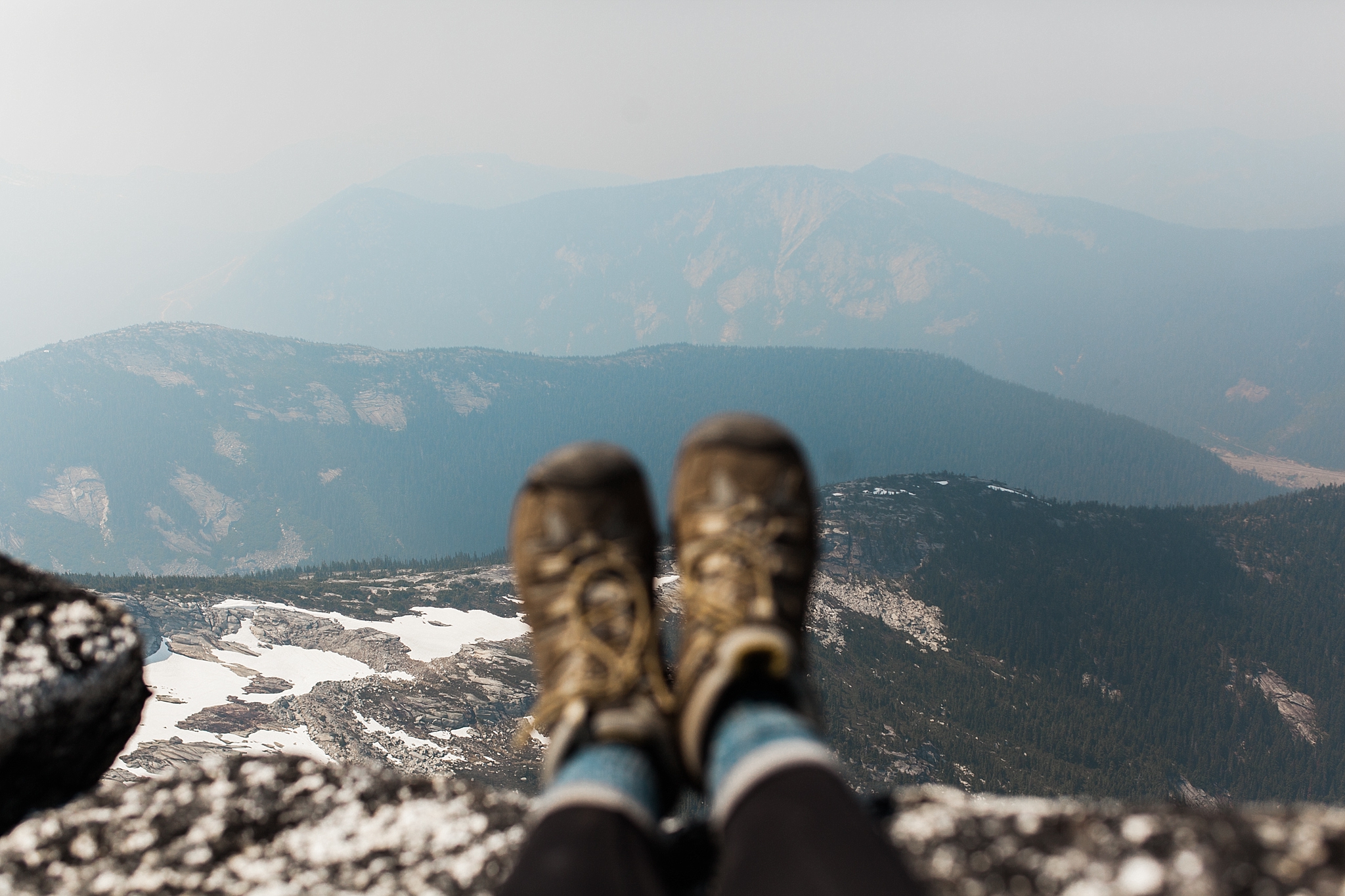 Eventually we decide to start heading down - the day has been leisurely and broken up by several hours of break time but we have no illusion about how far we have to head down. I think when I started hiking a few years ago I always thought that it was so much quicker coming down, but quickly you learn that it's not always the case (unless it's snowy and you can slide ;) that's the best). Still on the mountain top we reminisce about the day. It was full of fun and a few nerves, laughter, solitude, easy conversation with good company, standing in awe of our earth. I really couldn't think of a better way to spend a day.
TRIP REPORT
Photos taken with a Canon 5D Mark II, Iphone 7+
Review: A bit of glorious everything! SO FUN, I loved it up here! A really good one. Steep terrain through soft forest, rocky sub-alpine low-grade ridge-walk loveliness, terrific - some say "easy" - scrambling (me - I was a bit scared lol). The most amazing view payoff and would be stunning on clear day. Can't wait to return!! Not for beginners if you're trying for the summit.
Stats: Reaching 2105m, 815m elevation gain, 13km round-trip, Class 3 scramble
Time: I've seen it quoted between 4-8 hours. We started on the trail at 9am and were in the car by 5pm. We held a moderate pace with multiple stops for photos, took a lazy 2 hours for lunch, slowly approached the summit, and spent 1 hour at the summit. In my opinion you could accomplish this as quickly as you'd like, or spend the day exploring the area, hanging out, and enjoying the views.
Other info + thoughts: Not recommended for someone really scared of heights, rock exposure, or new to hiking and scrambling. Some websites suggest that it's "for experienced hikers only" - the hike itself isn't bad at all, it's a standard climb through the trees and meadow. The scramble adds an element of difficulty, and can be scary in some sections. I needed some moral support, for sure, but I'm also confident in my hiking abilities. If you're looking for a bit more of a challenge or have tried out some more difficult trails then this scramble might be a fun one for you to try! The granite is super "sticky" and rough - I wore leggings and my legs thanked me for it. Scratchy!
If you're into camping, I'd suggest (and what I want to do next, who's in!?) heading to the small lake that's past the junction point for Flatiron and Needle Peak and camping there. Spend the day or evening heading up to Needle Peak and then the following day around Flatiron or vice-versa. It's only a short hour-ish climb through the trees before you pop up into the sub-alpine meadow area which is so enjoyable that I would actually go up here just to enjoy the views from here.
It's not dog friendly once you get to the scramble - we saw a couple heading up with their dog on our way down and were dubious that they would have a safe trip up with their dog. Puppy can definitely play in the meadow section, though! There are a few sections that I can't imagine would be easy lifting a dog up and over to, especially as lots of it you'll need your own two hands. Prepare for sun + wind (we didn't experience this but it's totally exposed once you're up there). Trail is not marked once you get into the scramble. We only ran into one questionable area - the part where we met three hikers heading down (and they told us to come up the way they were going down). After that we each found our best route straight up the rocks.
A nerdy word about nature + safety: A few things I have to touch on here as I share about my outdoor adventures - first being, Leave No Trace. Check out that link, it's to the Leave No Trace Canada initiative with their principles. There are a few that are essential for outdoor adventure and I'm passionate about these - the main ones being staying on established paths (vegetation is sensitive and takes a long time to recover from your footsteps), take care of your garbage (YES, even your orange peels, banana peels, tissue paper, EVERYTHING - I often pick up these types of materials on trips), and be prepared for your own safety (looking up weather, being prepared for unexpected weather, knowing your routes and your personal limits, etc. etc, and having the safety essentials). I care a lot about the environment and we need to be the ones to make sure we preserve our outdoor playgrounds by making the most minimal impact we can individually have. Do your part.
Get more detailed info + directions for Needle Peak here:
And of course - I'm booking for last minute 2017 weddings and elopements + 2018 elopements and weddings! Contact me if you wanna go on an adventure like this and say hey on insta @brenna.louise <3